Waveney Folk Club - What's On
2022
Aug 19
Summer Sing-A-Round Evening
The sing-a-round season continues, so expect to hear a wide range of songs and tunes on offer this summer evening. There is no door charge again this evening we simply put the hat around to cover the cost of hiring the hall. It will once again be , I am sure, an entertaining and inexpensive folk club evening . Yes a great way to spend a Friday evening playing or listening to the music.
Sep 2
Sing-A-Round Folk Club Evening
This looks like being the last of the Summer Season Evenings so come along and enjoy playing or listening to the music. Once again we simply put the hat around to cover the cost of hiring the hall. So take advantage of the opportunity to play or listen to the folk and acoustic music on offer this evening. Everyone is most welcome I am sure it will be an enjoyable and entertaining Folk Club Evening.
Folk duo originally from Suffolk, who perform a mix of traditional and contemporary songs and tunes, as well as their own compositions. Previously based in Lincolnshire where they won the B.B.C. Song for Lincolnshire Competition in 2015 and were runners-up in 2016. With this sweet voiced harmony duo Ian sings lead vocals and plays guitar and Michelle sings harmony vocals and plays a range of whistles and occasionally the concertina. During the time they were based in Lincolnshire they were well known on the folk circuit in that part of country , playing at various folk clubs and festivals. Now back in Suffolk they bring their Lincolnshire musical experience and collection of folk songs to the Waveney Folk Club in what promises to be a really good evening of folk music.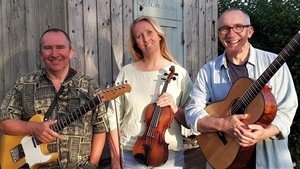 Formerly called Ludlum Pikes this newly created musical trio love playing Americana, Folk, Acoustic Roots and more....featuring their own original material plus carefully chosen covers. Alongside established favourites they are blending new songs and musical flavours with some new arrangements and carefully crafted instrumentation's. You can expect to hear and see Acoustic and Electric Guitars, Fiddle, Banjo, Mandolin, Cello and Bass, all blending with Vicky's lovely vocals.